Sharapova after-effect: Why brands choose to leave or sometimes stay back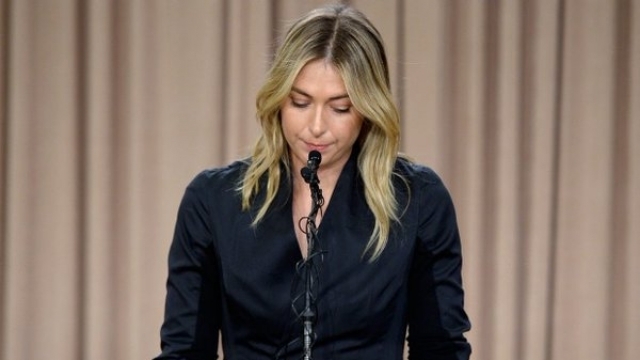 It is not uncommon for brands to cut their ties with sports celebrities. There are many such scandals that have erupted in the past
Russian tennis star Maria Sharapova on Monday confessed to failing a drug test at the Australian Open due to a substance she was taking for health issues. Within hours, sportswear giant Nike suspended its sponsorship with her, saying in a statement that it was "saddened and surprised by the news".
It did not take time for
other brands
to sever their ties with the sports star. Swiss watch brand TAG Heuer too announced that it will not renew its sponsorship deal with Sharapova. TAG Heuer said in a statement that its previous contract with Sharapova had expired at the end of 2015 and it has pulled out of negotiations on a new agreement.
This was followed by luxury carmaker Porsche, a division of Volkswagen AG -- who's already under fire for the cheat software that gave false emission reading when under test conditions -- suspending Sharapova as its brand ambassador. "We regret the current news about Maria Sharapova. Until further details emerge and we are able to analyse the situation, we have decided to suspend planned activities," Porsche said in a statement.
This isn't the first time a sports-person has been caught "doping" and have been dropped from brand endorsements.
But the case of Nike is different. Brand and image experts opine that an illegal activity by their endorser is indefensible. However, when an athlete or a celebrity is caught in an immoral activity which isn't strictly illegal, brands can tend to walk the fine line. This is the reason Nike didn't sever ties with footballer Wayne Rooney, Golfer Tiger Woods or Basketball player Kobe Bryant.
Similar Instances In The Past
It is not uncommon for brands to cut their ties with sports celebrities. There have seen such instances erupting constantly over the past couple of years.
One of the very prominent instances was when Tiger Woods' sex scandal broke out. Brands endorsing him, such as Accenture, American Express, AT&T, PepsiCo, Gillette, Buick and Gatorade dropped their contracts with the golf star quickly. Tag Heuer, a week later, ended their association with Woods. Cumulatively, the golf star lost $22 million (about Rs 148 crore) in endorsements, according to a Business Insider report.
However, five years later, Woods managed to bounce back. Some of the brands endorsements he currently has include EA Sports, Nike, Upper Deck, Net Jets, Rolex and TLC Laser Eye Centers, among others. Tag Heuer, that had ended its association with Woods, came back to sign him again, once he returned to the game. Even the largest motorcycle manufacturer in India -- Hero MotoCorp -- signed on Woods in December 2014 in a global sponsorship deal for $8 million (about Rs 54 crore), according to the Forbes report.
Nike, the same brand which was first to sever ties with Sharapova, was one of the few brands that stuck by his side. His sponsorship with Nike is still one of the biggest in the sports industry, with him receiving a portion of the $28.8 billion sales of Nike Golf apparel, shoes, golf equipment and golf balls, said the Forbes report. Woods now receives over $50 million (about Rs 336.4 crore) from deals with Nike, Rolex and Upper Deck alone.
One of England's and Manchester United's top footballers, Wayne Rooney, found himself in a sex scandal when he was caught cheating on his pregnant wife. This resulted in Coca-Cola and Tiger Beer ending their sponsorship deals with the star.
The deal with Coca-Cola was estimated to be 600,000 pounds (about Rs 5.7 crore). His other sponsorship deals at the time also included Nike and EA Sports.
Rooney too has managed to redeem himself. According to a recent Forbes report, the football star now earns 4.5 million pounds (about Rs 43 crore) through endorsements. Nike's endorsement deal with Rooney is currently 1 million pounds per year (about Rs 9.6 crore). There are also rumours that the star might get a much larger deal from Adidas.
Renowned basketball player Kobe Bryant also lost out when his brand endorsements were severed after he was caught in a sexual assault case. Nutella, McDonald's and Ferrero SpA ended their deal with Bryant after he was accused of sexually assaulting a 19-year old girl.
However, 10 years later in 2013, he had signed several new endorsement contracts, which included a fresh contract with Nike, to Lenovo and Turkish Airlines. He is estimated to be earning $20 million (about Rs 134.6 crore) in endorsements, according to a report by Fortune magazine.
Why Brands Do It Then?
So do brands lose out when they sever ties immediately after their brand ambassador gets involved in a scandal? Many of the brand experts that spoke to dna said that in a world wrapped around social media, brands feel it better to immediately distance themselves from a controversy as it attracts a negative image. Brands can always change their ambassador, they said.
Harish Bijoor, Brand Expert and CEO of Harish Bijoor Consultansts said, "At the end of the day, these brands are running a business. If a brand ambassador is attracting negative strokes due to a certain issue then it is better to get out." He added that in the time of Twitter and social media, it does not take time to get negative impressions. "It is not like in the earlier days where it used to take time for negative impressions to be formed from a brand's association with a celebrity.
Similarly, Ramanjum Sridhar, Founder & CEO of Integrated Brand-Comm feels that many brands are hyper-sensitive about issues surrounding brand ambassadors due to the influence of social media. "Out of fear of a backlash on social media for having a particular celebrity as its endorser who is involved in a scandal, many brands choose to end ties. Though this may be an isolated action of a few people on social media, they still tend to be more careful," he said.
K V Sridhar, Chief Creative Officer India, Sapient Nitro said that when brands are faced with such issues, some brands tend to look at whether what their ambassador has done is illegal or immoral. "Anyone who breaks the law, they have to be punished. So those that cheat in their sport or use substances to enhance their performance are doing things that are against the rules of the sport. In this way, the brand is right to dump their ambassador," he explained.
He added that anything which is immoral legally can be defendable. A brand can choose to back their ambassadors despite being involved in sex scandals or issues with unethical behaviour.
An easier way to explain this is the way Nike backed Tiger Woods, Wayne Rooney and Kobe Bryant despite their involvement in sex scandals, choosing to be more concerned with their performance as an athlete. On the other hand, it chose to dump Sharapova and cyclist Lance Armstrong for their involvement in doping scandals which would impact their performance in the respective sports.
As to whether the brands' decision to end their sponsorship deals with Sharapova was prudent, only time will tell.